photos and blog by Kristina Hockley
Grant of Vancouver Team Bogey
Gnines is a one day tournament. Each team is limited to 9 individuals, 5 male and 4 female. 9 games to 9 points in 10 hours. This is truly a grueling tournament! Hosted by Bellingham Ultimate at the Skagit River Soccer Park, Burlington, WA.
Players on Vancouver team Bogey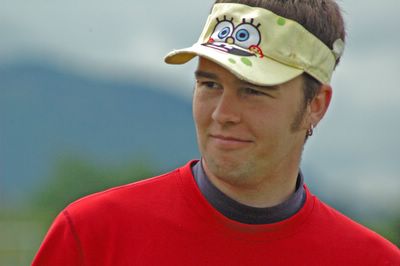 Terry - talented and handsome!
Dave launching up field to Julie who is off frame next to the female player in photo
photo by Kyra Hogan
Jeremy is an extremely intense player...he believes in all or nothing!


Opponent called foul citing that Jeremy stripped him of the disc. Why don't we let the photo be the judge of it!


Luke - The mentally challenged player


Intense defense by Julie


Unknown players entertained on sideline


photo by Kyra Hogan Denise - Co Captain


Iron wall defense by Grant


Unknown players


Inspired daughter, Kyra


photo by Kyra
Team Bogey Mascot - dreaming

Thanks to the Bellingham Ultimate Club for organizing this fun annual tournament